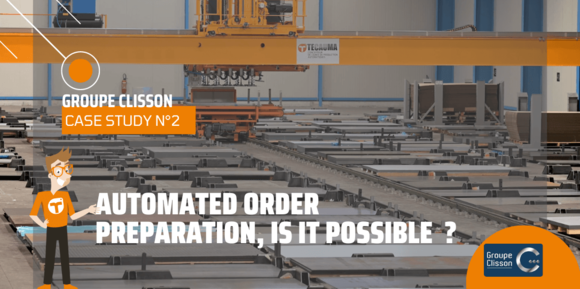 09/26/2022
Automated order preparation for storing, handling and palletizing sheet metal
>>> TECAUMA brings its expertise and solutions to your manufacturing process automation issues.
Challenge
Groupe Clisson, a major processor and distributor of metallurgical products in Western France, wanted to have a 100% automated equipment for preparing sheet metal orders.
How to store sheet metal? How to handle them and then palletize them?
After analyzing the customer's needs, TECAUMA provided its solutions and proposed a powerful equipment..
Solution provided by TECAUMA
Groupe Clisson now has a fully computer-managed solution for processing its orders. Via the connection with the ERP of the company, the TECAUMA equipment receives the sheet metal orders to be prepared on a pallet.
As soon as a request is received, the equipment automatically ensures the supply of an empty pallet to the storage area, the progressive stacking of the sheets, then the return of the assembled pallet ready to be dispatched.
To achieve this automation, various processes have been implemented: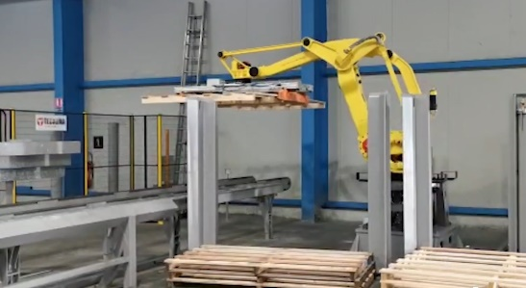 > A robot loads an empty pallet on the line (the type of pallet is automatically defined according to the type of sheets ordered)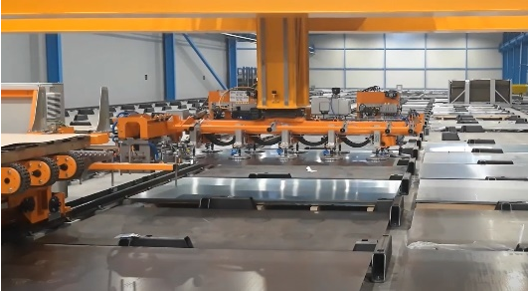 > As the packs of sheets are stored flat in the hall, TECAUMA has developed an automatic traveling crane on which is integrated a modular gripper, which adapts to the size and thickness of the metal sheet.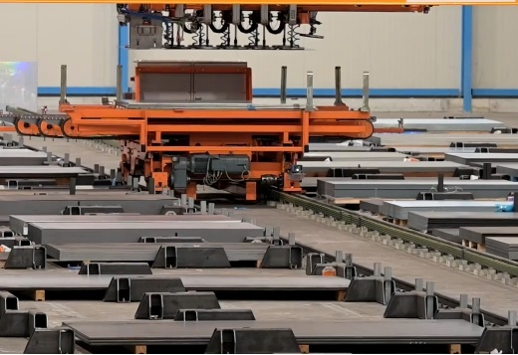 > The metal sheet is unstacked and then loaded onto a pallet, transported on a shuttle running on rails on the ground.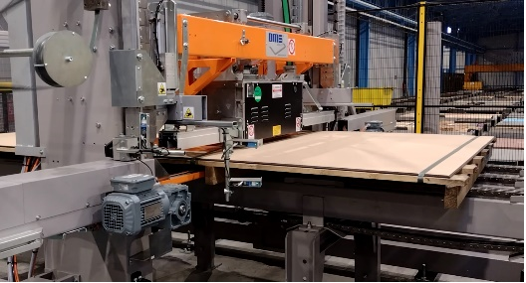 > Once the sheet metal order has been finalized, the pallet is strapped using an automatic strapping machine, then labelled.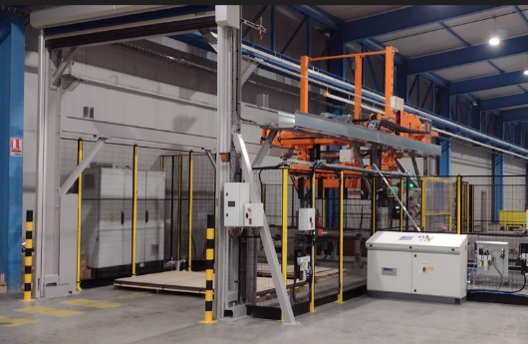 > Finally, a handling gantry performs the stacking of the finished pallets on the ground, providing a buffer, pending removal by the driver.
CONCLUSION
With this tailor-made and fully autonomous solution, TECAUMA has eliminated the difficulty and the human risk of the sheet metal unstacking operation.
In addition, the equipment has given back performance to Groupe CLISSON in the order preparation process.